DVC Art Show 2023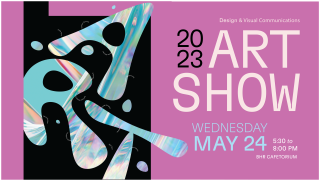 Blue Hills Regional is delighted to hold its 2023 Design and Visual Communications Art Show.
This event will feature the work of the DVC graduating seniors and alumni of the DVC Program.
The students will present work in mediums of Photography, Video, Animation, Graphic Design, Illustration and Fine Art.
The Art Show is open to the public and held in the Blue Hills Cafeteria on Wednesday, May 24th from 5:30 to 8:00 pm.
Thank you to Emily Murray, Class of 2018, for designing the 2023 Art Show Poster and other alum who submitted art.